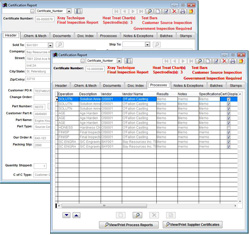 Certificate of Compliance
Certificate of Compliance are created with the click of a single button. All of the information tracked through Production is added to the Certificate of Compliance automatically. There is no need to manually add information.
It is also possible to add stamps electronically once the appropriate signoff has been performed.
A copy of all attached reports, supplier certs and inspection reports, may be printed at this time.
An Auditor has instant access to all part records, decreasing the audit process time and giving them confidence in the production process and system.